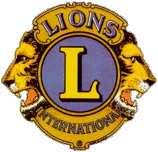 Lion's Club International offers business and professional people a way of sharing their success by helping those less fortunate than themselves. In 1925, Helen Keller challenged the Lions to become "knights of the blind in the crusade against darkness." They responded, and Lions are now best known for their sight-related programs.
The Riverdale Park Chapter of the Lion's Club is no exception; they assist in sight preservation, including helping the poor get eye glasses, eye exams, and seeing eye dogs. Through fund-raisers, they are able to contribute money to the Lions of District 22-C Eye Bank & Research Foundation, Inc. (9470 Annapolis Road, Suite 417, Seabrook, MD 20706, Tel: 301-577-7800), and the Wilmer Research Institute at Johns Hopkins University in Baltimore, Maryland.
In addition to their programs for the visually impaired, they also help the poor get hearing aids, and provide food baskets for the needy during the winter holidays.
The group meets once a month for dinner, which is followed by a general business meeting.
Contact Chapter President Guy Tiberio, (301) 864-3545, for more information.
| | | |
| --- | --- | --- |
| When | 4th Tuesday of every month | 7:30 p.m. |
| Where | Riverdale Park Town Hall | 5008 Queensbury Road |