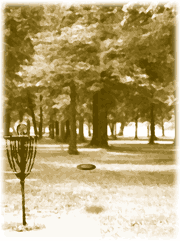 A number of parks, recreation centers, and other areas of interest arelocated only a short drive (or bike ride, see Bike Paths) from Riverdale Park. Most are maintained by the Maryland-National Capital Park and Planning Commission. One notable exception to this is Greenbelt Park, which is under federal jurisdiction. The park, one of the largest inside the beltway, offers hiking and limited camping, as well as large (75-100 person) group picnicking sites.
For something new, check out the frisbee golf course (pictured) at Calvert Road Community Park. Just north of Riverdale Park on Calvert Road, this park also offers picnicking, tennis and volleyball. MNCPP-C also provides year-round fun at the nearby (5211 Calvert Rd.) Ellen E. Linson Swimming Pool/ Herbert W. Wells Ice Rink.
And for those rainy weekends, College Park Aviation Museum (also near Calvert Rd.) offers an interesting diversion. In nicer weather, walk, bike or skate around the well hidden Lake Artemesia. Especially beautiful in the spring because of it's azaleas, the lake is also open to fishermen. If you like to bargain-hunt, checkout the Saturday bazaar at Hamilton/Magruder Neighborhood Park in Hyattsville.Swimming, picnicking and Softball are also offered at this park. For location and additional information on these and other Prince Georges Parks go to the MNCPP-C website.