Snow Causes Many Problems Especially for Pedestrians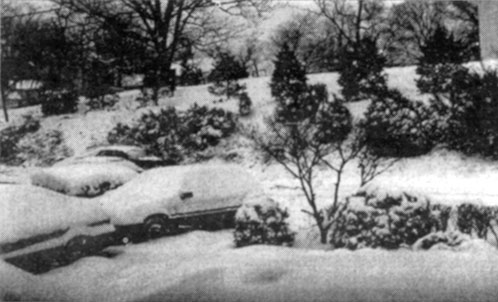 The repeated winter storms that descended on the Washington Metropolitan area brought many problems to town residents. Public Works spent long hours clearing the streets so residents could use their cars and the Police Department responded to a higher than usual volume of accidents on the major highways.
There was a fair response from residents in moving their vehicles to the odd-numbered side of the street during the emergency so plows could clear the snow. Sidewalks were the most serious problem, as only a handful of residents and businesses cleared the walks in front of their homes and businesses. This forced pedestrians to walk in the streets and risk their safety.
It is the obligation of all residents and businesses to clear sidewalks on their right-of-way in the twenty-four hours following the end of a snowfall. Residents physically unable to comply with this law can call the Town Hall (301) 927-6381 to report their problem. These residents will be given an extension or they will be referred to a person they can pay to clear their sidewalks.
Thanks to residents and businesses who obeyed the law.
The snow season may not be over. In another snowfall this winter (or as an early reminder for next year), residents and business owners must comply with this ordinance. It is our law.