Mansion "Hunt" a Success"
An estimated 140 persons attended the "Hunt" at Riversdale on Sunday, May 21. Visitors carried paintings, chairs, silver teapots, dishes and jewelry into the west wing of the mansion to get comments from Weschler's appraisers. Dolls were appraised by three experts in the field of antique dolls.
Items included an 1860s Civil War bank with an estimated value of $800, a Toonerville Trolley, a 1910 man's ring, a 50 year-old German beer mug, and an 1820 "coin" silver fork engraved with a family monogram. The most unusual items were a collapsible, canvas chair with prolonged arm rests found in an attic and an ornate, Egyptian motif table leg. Owners of the table leg believed it was part of a table from the 1920s version of the movie "Ben Hur." William Weschler, Jr. advised them to send a photograph of the piece to the History Archives of Universal Studios for verification--as Hollywood memorabilia was not in his field of expertise.
Weschler's auctioneers/appraisers firm was founded in 1890 in Washington, D. C. and has its showroom at 909 E Street, N.W.
William and John Weschler and the doll experts donated their services to this fundraiser for Riversdale that resulted in a $1,000 benefit to the Riversdale Society.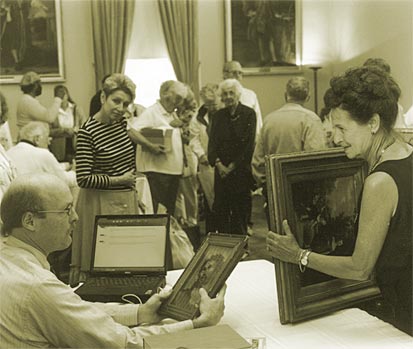 William Weschler discusses a visitor's paintings while other visitors listen in. (Photo by Gerard Kiernan.)