Town Hall Improvements Underway
Santos Construction was awarded the contract to make improvements to the Town Hall meeting room. Work began on July 24 and completion is scheduled for early September.
The project includes installation of a conference room, a storage room for archival records, and a video room. In addition, the ceiling will be dropped to improve sound quality and reduce energy consumption.
Original construction of the Town Hall was in 1981. As functions of the town office expanded, additional staff were assigned to the former conference room; it was decided that space could be made available in the large Town Hall for a new conference room, storage area for a large collection of old photos and documents and a room to accomnodate cable equipment.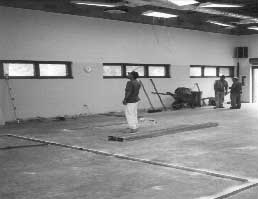 This photo shows the early stages of work in the Town Hall. The outline in the foreground shows the location of the conference room.
Photo by Patrick J. Prangley