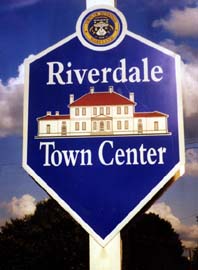 Our Vision of Riverdale Park
Riverdale Park was born on the site of a 19th-century plantation, Riversdale, and has evolved into a busy urban community distinguished by its friend1y, small-town character. As we head into the 21st century, the citizens of Riverdale Park dedicate ourselves to re-establishing and enhancing our historic heritage. Renovation of the town Center, reconstruction of the Riverdale Park MARC station, and improvements to public areas along Queensbury Road are priorities that will rejuvenate our community and reinforce the towns distinctive character.
Historic Riversdale
Early in 1801, Henri Joseph Stier, a Belgian aristocrat, purchased 800 acres north of the port of Bladensburg to establish a residence in this country Construction was started on Riversdale, a Georgian-style house, later that year. The house was completed by his daughter Rosalie Stier and her husband George Calvert. In 1833, the B&O Railroad was given the right-of-way through the Riversdale property, and two years later the railroad line was opened to passengers. The Riversdale estate stayed in the Calvert family until 1887, when the Riverdale Park Company purchased 475 acres, including the mansion. In 1889, Riverdale Park was established, and the first houses were built around the train station in the 1890s. In 1920, Riverdale Park was incorporated as a town. The townspeople traditionally have perceived Riverdale Park as connected to the mansion and have derived unique identification from this significant connection.
Who We Are
Riverdale Park is home to about 5,000 economically and culturally diverse people, both long-time and new residents. We are a family-oriented community. Our many places of worship reflect a multi-denominational character, and our children walk to the local elementary school. Young adults who were raised here are returning to raise their own families because of the small-town ambiance with proximity to Washington, D.C.
The town government benefits from wide participation among the citizens in deliberating the public issues of the day Many residents volunteer in the town government as members of citizen advisory committees, community workshops, the town's newspaper, and the Recreation Board.
The Town Center
Riverdale Park is experiencing a historical resurgence apparent in the renovation and preservation of its historic areas and structures. We are now turning our attention to the long-neglected town center, apparent in the renovation and preservation of its historic areas and structures. We are now turning our attention to the long-neglected town center, envisioned as a magnet for the community. The town center, which includes businesses, residences, and public spaces, will be restored to reflect its early-20th-century architecture with tree-shaded common areas, pedestrian-oriented sidewalks and walkways, and historic gas-style street lights. Designing the area with an emphasis on public transportation and pedestrians is important.
We recognize that a healthy business community is essential to the success of our town. Riverdale has an established commercial area consisting of restaurants, retail stores, and service-related businesses. Existing and new industrial and office areas also contribute to the towns economic base. Revitalization of the towns commercial areas will attract new businesses and customers. Improvements to the local streets and parking lots will maximize traffic flow, enhance pedestrian access, and increase parking for patrons.
Residences in the town center are late-19th-century and early-20th-century homes, reflecting Victorian and Craftsman styles, on Queensbury Road. The tree-lined avenue serves as a main street connecting the two business areas. Residents are currently restoring and renovating their historic properties.
The public spaces in the town center currently include the Calvert family cemetery; town-owned Mabelle Munch and Beale Circle parks, and the MARC commuter rail stop. These spaces will be maintained and upgraded; new spaces will include a vintage rail station and shelter, redesigned parks, and upgraded sidewalks and walkways.
Conclusion
Riverdale Park is in the midst of a historical rebirth centered around the newly restored Riversdale mansion and our town center. This resurgence has inspired us to restore our own houses and to protect and re-establish our small-town roots. We will work hard to ensure that our vision is realized.
Riverdale Park is a walk down a tree-lined street into a bygone era where a sense of community means knowing your neighbor and shopping at the local bakery. The sound of the train, laughing children, and birds in the park bring together a feeling of belonging, a sense of place, in a word--home.
Written by Chris Davis, Mary Donaldson, Ken Laureys, Ed Joynes, Taylor Wells, and Bruce Wernek