By Ann Ferguson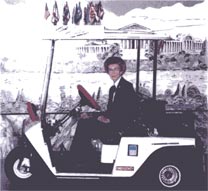 Marian Bailey, 79, resident of Queensbury Road for the past fifty years, died at her home on January 22.
Born and raised in the mid-west, Miss Bailey came to Washington in the spring of 1942, only months after the United States entered World War II. The Pentagon was under construction and she was hired to train telephone operators for, as she described it, "the largest switchboard in the largest office building in the world." She eventually became chief operator over a staff of 300 operators.
The development of modern communications reduced the need for a staff of operators to put through calls personally. Many expected that Miss Bailey would retire, but that was a word she never allowed in her vocabulary. The Pentagon was the center of her life and her fellow employees were her family. Instead of retirement, she gave VIP tours of the building taking visitors around on her specially decorated golf cart. She proudly recounted the tours she gave to Vice President Chaney and Secretary of State Colin Powell.
A story that exemplifies the dedication Miss Bailey brought to her job was the year she walked across the 14th Street bridge in a blizzard to get to her post. On that occasion she stayed at her post for days until snow removal allowed other workers to report for duty--she was determined that calls to and from the Pentagon would get through in spite of paralyzing weather conditions.
An inveterate Dallas Cowboys fan, Miss Bailey attended the Superbowl a few years ago and she had many Cowboy caps and jackets in her collection.
In 1999, Miss Bailey offered the Veterans Monument Committee her support as they sought funding for construction of a permanent monument to veterans. She donated many items with the Pentagon logo and two personally autographed books by Colin Powell--all of which were used in a raffle the committee sponsored. On November 11, 2000, at the request of the committee, Miss Bailey was the keynote speaker at the Veteran's Day ceremony at the monument.
News coverage of her death referred to Marian Bailey as "Miss Pentagon" and the Pentagon's Departed "Angel." An outpouring of more than 150 persons were in attendance at her funeral services--many told stories of her special meaning to them. It would be fitting to add one more reference to a description of this proud woman--that she was a "Good Friend to Many."
---
Condolences
Sympathy is extended to the family of Eugene Bromley, a long-time resident of 47th Avenue, who died in February.